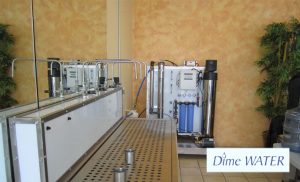 Water stores are basically mini water bottling plants that use the same type of equipment as the larger manual filling bottling plants. What makes water stores profitable is the fact that there is no need of storing the water or bottles, because people come in and refill their own bottles with fresh and great tasting water.
Water stores are fast growing businesses worldwide and they are the lowest cost method to sell purified drinking water. There are very low startup costs for this business for anyone who wants to get into the water business. These water stores fill the need for good tasting, low cost, safe drinking water and most people in the US will buy it because they are uncertain about the quality of tap water.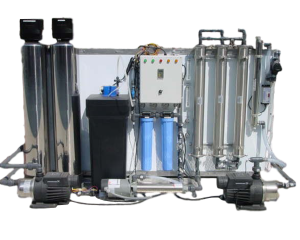 Dime Water, Inc. provides chemical-free methods of treating water for the water store business market. Our reverse osmosis systems, backwashing carbon and turbidity filters, UV systems, AquaferTM and MaxicureTM units are the perfect choice for water stores. The MaxicureTM removes iron, manganese and turbidity, removes taste and odors of chlorine and provides safer, healthier water at every faucet. The unit can be customized for many water problems including ozone injection for bacterial issues.
Also, water stores provide cheaper water as there is no bottle cost or delivery cost. Dime Water, Inc. can provide the equipment and support customers need for a successful business. Working together with our clients to design and layout the equipment, our team keeps the cost low without sacrificing quality.