Dime Water, Inc. water treatment products tailored to your needs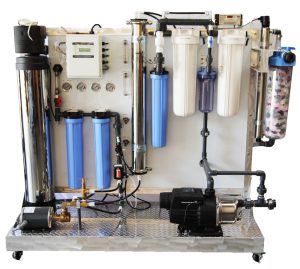 Purchasing only the products that water treatment companies have as standard stock is not always advantageous. Customers could end up with units being too big thus too expensive or too small and unable to do the job, so customized products are often the ideal approach to get the job done and save money.
Our products are constructed of NSF certified components wherever possible to insure the proper and safe handling of water prior to delivery to it's final use.
Because we are a vertically integrated company with full metal and plastic fabrication capabilities along with testing abilities, customizing is cost effective on our manufacturing process and enables us to provide customers precisely what they require.
Dime Water, Inc. provides custom-built water treatment products designed to meet the client's needs and specific requirements. The desired water quality and quantity differs from client to client, so before we start with building a product, we require as much information as possible from our clients.
Prior to building a custom unit:
We perform or review a raw water test, which will give us fundamental information to start with
Obtained water information along with customer requirements is used  to generate a computerized performance matrix
American-made components are selected for the system.
THE PROCESS OF BUILDING CUSTOM UNITS
Pre- selected components are ordered.
Before fabrication a final check is made on space and access requirements along with available power

All purchased components are inspected and some tested as they arrive to avoid fabrication delays.
After we have received all the information we require, we build the unit from the ground up and prior to shipping, we test the custom-built unit for  2 hours or more and a detailed quality report signed by the lead fabricator and the project engineer is e-mailed to the customer before shipping. Dime Water, Inc. never ships out a product unless it was tested and we are sure that it performs the way it should.Hundreds of systems shipped since 1994 and never a start-up failure.
FIND OUT MORE
Dime Water, Inc. strives to meet and exceed the expectations of each client, so we put great emphasis on the importance of delivering a product that works the way we promised. From the initial design, to building, testing and shipping the system to our client, we take care of all the details to ensure the water treatment unit will perform to the customer's expectations. If you require a quote for a custom built water system, please call us at 760.734.5787.