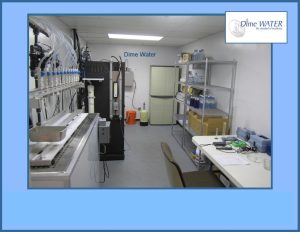 Dime Water, Inc. has Mechanical and Electrical Engineering personnel, which excels in both designing and constructing water treatment products according to our customer's requirements and water needs.
Due to the extensive experience and skilled employees, Dime Water, Inc. has the capability and ability to rebuild and recommission primarily commercial reverse osmosis units. We can also rebuild some of the popular control valves that are used in water filers and softeners.
We own welding and metal cutting equipment, you can learn more about the Tig welding process on sites like weldinginsider.com if you would like to know extra. we build our own electrical panels (PLC, microprocessor, and electro-mechanical), we test the water to ensure proper equipment selection and we are able to fully test all membrane-based products prior to shipment. We want to make sure that our equipment can produce the best results for our customers, that is why we will go onto websites like https://www.tsinfa.com/universal-milling-machine/ to research equipment on there for our industrial use.
What sets us apart from our competitors is our superior service and fast response time. To meet and exceed expectations, we use clear strategies to reduce risk and provide only innovative, cost-effective and flexible water treatment solutions for our customers. Teamwork, mutual respect and commitment to common objectives are some of the things we emphasize on in all our cooperation with our valued customers.
At Dime Water, Inc. we provide the following services:
Water testing
Design
Formal Quotations/Submittals
TESTING LABORATORY
Having our very own in-house laboratory lets us do things properly and allows us to provide our international customer base with timely and accurate results. Because all water sources are different and our customers' water needs are unique, it is imperative that we have data on their water before recommending products.
DESIGN
Given the fact that many of the units we build are custom made according to the customers' needs and wishes, our design services are required on a regular basis. We occasionally work with architects and designers, who are not Dime Water, Inc. employees.
FORMAL QUOTATIONS/SUBMITTALS
With one phone call or email to us you reach people who have a combined 75 to 100 years of experience in the water treatment field. Customers get direct access to an engineer, who will provide a water treatment solution and information on how we can help improve your water quality.