COMMERCIAL REVERSE OSMOSIS SYSTEMS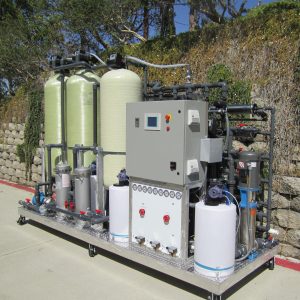 Dime Water, Inc. is a leading manufacturer of highly engineered commercial reverse osmosis systems. Choose from our standard product line of reverse osmosis systems or choose to utilize our in-house engineering team to design a custom engineered system based upon your needs. If you can describe it, then we can most likely engineer and build it.
Our quality control measures involve at least two technicians at all times to ensure that the final quality and performance of each system is ensured.
Each reverse osmosis system is supplied with a comprehensive instruction packet as well as a complete read-out of performance test results.
Properly designed high-pressure Commercial Reverse Osmosis and Industrial Reverse Osmosis Units:
Are able to reduce all dissolved analytes by 99% EXCEPT for Boron and Nitrates. Significant Boron reduction with its weak ionic charge requires special membranes and higher operating pressures, special pretreatment, or post-treatment. Nitrates require special membranes and higher pressures or post-treatment to reach 99% removal.
Can be constructed to achieve one or two megohm quality water without the need for post-treatment such as EDI or ion exchange DI tanks.
Have a membrane porosity from 0.0001 to 0.001 micron which makes it an effective barrier to bacteria, viruses, cysts, and endotoxins.
Are able to operate with water efficiencies as high as 85%
Will function without membrane replacement or cleaning for 5 years or more.
Provide extremely low hardness levels suitable for high-pressure boiler applications
As an aggregate use 25% less electrical energy than they did a decade ago because of improvements in membrane technology
Are offered with blend valves to permit tailoring of water constituents for brewers, distillers, coffee preparation, and bottlers.
Offer cost-effective pretreatment that eliminates CAPEX and OPEX of carbon filters and water softeners.
Can be custom-fabricated to fit provided spaces
Use controls that have a 10 year plus 100% reliability history