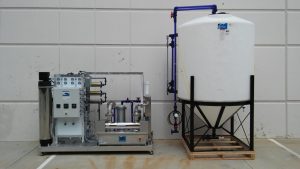 The cosmetic industry uses distilled water or demineralized water for lotion, soaps, conditioners and many more similar products. Usually, many cosmetic manufacturers have their own laboratories where they create, test and sample their products. Engineers and scientists insist on the absence of any elements in the water when additives are added in order to begin creating a beauty product, as many of these additives react negatively when added in untreated water.
The water is typically treated with reverse osmosis, depending on the company's requirements. After treatment, the water is placed into containment or storage and kept in a 24/7 recirculation loop, being passed through UV disinfection to assure there are no organisms in the water. For the highest quality water needed for production, the loop water again passes through  185 nm UV where ozone is produced, D.I. or EDI for megohm polishing, 254 nm UV where AOP with the hydroxyl radical is produced and sub micron filtration for endotoxin filtration.
Purified water is vital in the health and medical field too, as it is needed for many applications, such as dialysis systems, pharmaceutical grade water, injectable grade water and general nutrition purified water. Wastewater treatment in the cosmetics and medical industry brings concerns to companies and care providers. Large amounts of wastewater are contaminated by dye, surfactants, oils, emulsions and high COD concentrations, foaming excessively at times. Integrated processes are used for biological wastewater treatment, which can reduce cost by recycling the water and reducing the amount of wastewater, thus saving sewage charges.