Reverse Osmosis Water Filter
DRO-100 Reverse Osmosis Water Saver
(4 Stage Purification Process)

1:1 PRODUCT TO REJECTION RATIO
Saves Up To 7200 Gallons Per Year Compared to Conventional Systems
5 Micron Pre-Filter
5 Micron Carbon Block Pre-Filter
100 Gallon Per Day TFC Membrane
Enhanced Carbon Final Filter
Drain Flush Valve
Water Saving Automatic Shut-Off
3.2 Gallon Storage Tank
Touch Flo Faucet


Residential RO Selection Guide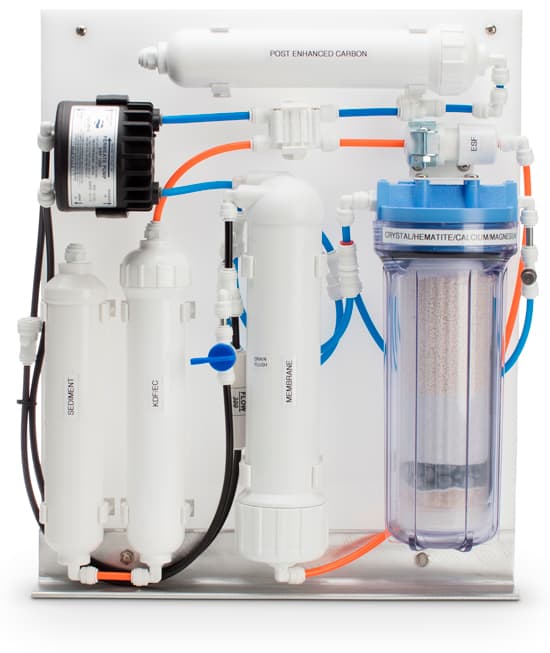 DRO-100-HE PLUS High Efficiency Reverse Osmosis Water Saver
3:1 PRODUCT TO REJECTION RATIO
Saves Up To 21600 Gallons Per Year Compared to Conventional Systems
5 Micron Pre-Filter
Inline KDF / Enhanced Carbon Pre-Filter
100 Gallon Per Day TFC Membrane
Permeate Pump Increases Dissolved Solids (TDS) Removal
Adjustable pH / Re-Mineralization Cartridge
Enhanced Carbon Post-Filter
Drain Flush Valve
Water Saving Automatic Shut-Off
3.2 Gallon Storage Tank
Touch Flo Faucet


Residential RO Selection Guide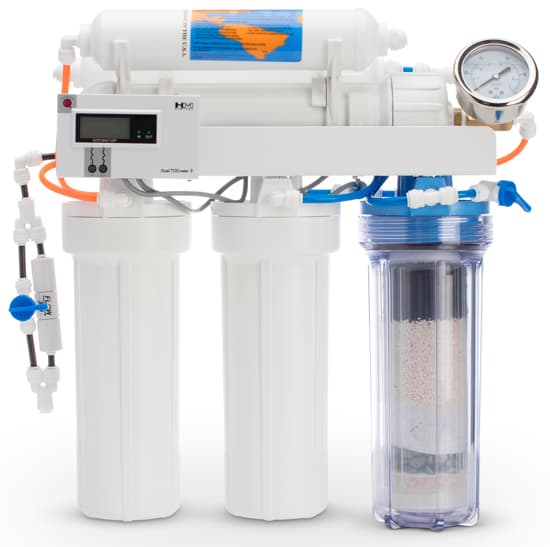 Nature's Balanced Reverse Osmosis Water System
(8 Stage Purification Process)
1:1 PRODUCT TO REJECTION RATIO
Saves Up To 7200 Gallons Per Year Compared to Conventional Systems
5 Micron Pre-Filter
KDF / Enhanced Carbon Pre-Filter
Pressure Gauge for Pre-Filter Monitoring
Multi-Pole Magnetic Field Device
100 Gallon Per Day TFC Membrane
Post Cation Resin Cartridge
Integrated TDS Meter for Cation Monitoring
Adjustable pH / Re-Mineralization Cartridge
Enhanced Carbon Final Filter
Drain Flush Valve
Water-Saving Automatic Shut-Off
3.2 Gallon Storage Tank
Touch Flo Faucet


Residential RO Selection Guide
Structured Water Under Counter Reverse Osmosis System
Initial filtration to 5 microns. Primarily to increase the functional life of the membrane.
Custom blend media filter to remove chlorine, reduce heavy metals, remove chloramines and because one medium is a biocide, bacteria reduction is also accomplished.
Special 100 GPD reverse osmosis membrane to remove remaining heavy metals, reduce dissolved analytes by 97% and because of membrane porosity of 0.002 micron or less, residual bacteria, viruses and cysts are reduced by 99% or more.
Multiple Neodymium magnetic fields encircle the water to replicate the action of natural stream water passing through the Earth's magnetic flux lines.
Cation polishing the further lower total dissolved solids to near zero TDS.
A custom cartridge containing hematite and crystals to restore nature's frequencies.
Structured Water Cell with vortexes. Utilizing super hydrophilic surfaces and induced infrared energy (consuming 1-2 watt power) along with titanium dioxide infrared reflective surfaces most of the water is structured just before delivery to the faucet.
Click here for more Structured Water information.


Residential RO Selection Guide
Drink to your Health
You have heard and read it before. It has almost become cliché. But do you know the reasons that every person should drink at least eight glasses of water every single day? It's more than fashionable advice.
Look at the basic facts about water and the body. Water makes up approximately 85% of your brain, 88% of your blood and 70% of your muscle mass. Every cell in your body needs water to survive. Our bodies take in toxins from the air we breathe, the food we eat, and the chemicals used in the various products we use on our skin and hair. Water helps remove them. Water also cushions your joints, carries oxygen and nutrients to your cells, and helps regulate your body temperature. Proper hydration is essential for good health. Why not consider a DRO-100 Reverse Osmosis Water System to provide you with safe, healthy and great tasting water?