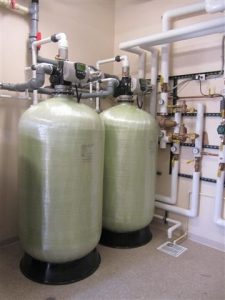 Water treatment systems are extremely important to the hospitality industry especially hotels and motels. Proper treatment protects the owners investment by preventing costly, premature failures of plumbing fixtures, water heaters and pipe systems. Additionally, leaks from pipe failures often cause structural damage and even worse mold issues. Treatment processes can include traditional salt type softeners (shown) or one of Dime Water, Inc. non-chemical processes.
Treatment also reduces operating costs by preventing energy robbing hardness scale in heaters and boilers. In addition less soap is required in laundry operations plus towels and linens have a longer service life.
Guests are becoming more and more sophisticated in their expectations including their bathing , showering and shaving experiences. Good water adds to their overall impression of being in facility that cares.
Should local bacteria or virus presence  become an issue, Ultra Violet treatment is a viable treatment option with no chemicals required an no maintenance needed. Ideal from a purchase and operating cost standpoint.