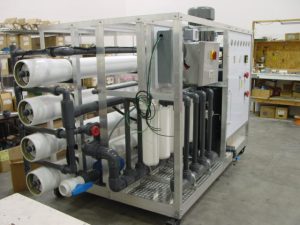 Dime Water, Inc. has produced reverse osmosis systems for this industry for many years. We pay particular attention to materials of construction, water and electrical efficiencies while delivering an excellent and reliable product for bottling.
The long term, uninterrupted performance of the reverse osmosis system is a function of proper pretreatment to prevent membrane hardness scaling.  Dime Water, Inc. has developed and patented products to accomplish this without the use of chemicals , zero water discharge to drain, and zero maintenance . These products include our Aquafer TM, Maxicure TM and ESF TM Series products.
Microbes are another problem water bottling plants face either on the system inlet where they cause membrane plugging and resulting cleaning and downtime or in the outlet where entire batches may need to be discarded. A viable low maintenance answer to this issue is properly sized and placed ultra violet (UV) systems.
We also incorporate chemical feed systems to induce anti scale chemicals to the inlet water. A preferred process with high hardness inlet water and very economical in capital cost and operation with only 1.5 to 3 mg/l needed in the feed. When extreme water conditions are met, Dime Water, Inc. manufacturers a full line of specialty filters to address the problems.